10 septembre 2017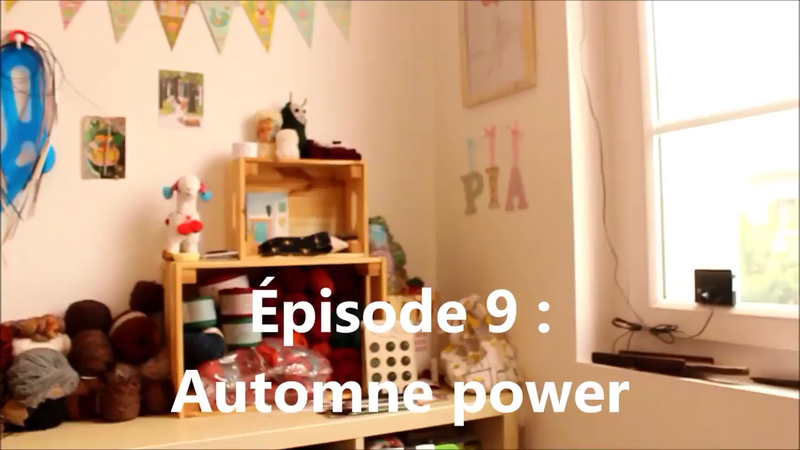 Et voilà ! L'épisode 9, Automne Power, est arrivé ! Désormais, je ferai les résumé ici. Plus pratique et qui sait, peut-être que d'autres posts verront le jour régulièrement !
C'est parti pour le résumé :
Alors d'abord cette semaine, je vous présente encore et toujours mon pull Chaussette de Alice Hammer en alpaga de Drops, presque terminé :

Ensuite je vous montre un petit bout de mon châle Parlour, de Knit Graffiti Designs, qui n'a pas encore de fiche Ravelry :
Puis je vous ai parlé du très beau T-shirt Romantique de Paule TB, tricoté lui aussi en alpaga de Drops :
Pour les jolis patrons de couture de trousses, pochettes et autres petites choses, c'est la jolie boutique de IndigoBirdDesign, sur Etsy. Le rangement de DP est très cool avec plusieurs options de fermeture :
https://www.etsy.com/fr/shop/Indigobirddesign
Les patrons de Loop London dont je vous ai parlé sont disponibles ici en PDF :
Aureate pattern by Lesley Anne Robinson
Metallic and Reflective :: Aureate is an asymmetrical triangle shawl, knit flat from tip to edge using garter stitch, two-colour brioche stitch, and a garter mesh lace stitch. The short row arrow-shaped wedges help to create the distinct shape - as the shawl grows, the Brioche sections get smaller and the accent wedges become larger until casting off.
http://www.ravelry.com
Pour le livre Take Heart, dans lequel on retrouve le headband et le châle à forme étrange :
Je vous ai aussi parlé des organiseurs de semaines, les voici. C'est bien pratique !
eliza ellis: FREE PRINTABLE IRMA WEEKLY PLANNERS
WEEKLY PLANNERS ARE ONE OF THE MOST POPULAR TOOLS FOR GETTING ORGANIZED, AND I MUST SAY, THEY'RE MY GO-TO PLANNER OF CHOICE. I love being able to see the week at a glance, and as we tend to do things on a weekly rotation - kinda days, paying bills, shopping, appointments etc, I've found they're the best planners to keep me organized.
http://www.elizaellis.com
Et pour les fiches inspirations de couture, je vous conseille vivement :
Hobbling Handmades
Free Printable · My Makes · Tutorials · Uncategorized Hello there! Today I have something mighty exciting, even if I do say so myself - so I'll cut to the chase; I've made a free printable for you!
https://hobblinghandmades.com
Si j'ai oublié quelque chose, criez !